In October I played just 12 games of 9 different titles, 8 of which were new to me. The new games were Carcassonne: The Dice Game, Casa Grande, Spyrium, Stak Bots, Revolution, Ticket to Ride: Legendary Asia, Sonne und Mond and SOS Titanic.
October is traditionally the month when the additions to my collection explode but this year I didn't visit the Essen game fair. Nevertheless, I still added 15 titles to the collection which were Gunrunners, Relic Runners, Spyrium, Carcassonne: The Dice Game, Fleet, Revolution, Dixit, SOS Titanic, Terra Mystica, UGO, Palmyra, CV, Glastonbury and Coal Baron. In addition, two further orders from Germany are on their way to me with a further ten games but they'll appear as November acquisitions. My unplayed games list has unsurprisingly increased from 29 to 35 this month and game of the month was a fairly easy call with the new William Attia game, Spyrium, taking the trophy although SOS Titanic gave it a bit of a run for its money but I've only played it solo so far.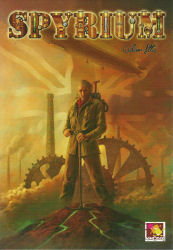 Comments »
The URI to TrackBack this entry is: http://www.spiel.co.uk/wordpress/wp-trackback.php?p=587
No comments yet.
RSS feed for comments on this post.
Leave a comment
Line and paragraph breaks automatic, e-mail address never displayed, HTML allowed: <a href="" title=""> <abbr title=""> <acronym title=""> <b> <blockquote cite=""> <code> <em> <i> <strike> <strong>