Just found out today that I won a contest on Boardgamegeek. I don't enter all of them but I do take part if the prize is a game I'm interested in. And this is the first one in which I've been successful. So Wizkids will shortly be sending me a copy of Trains and Stations. Woohoo! Perhaps I won't mention the fact that a copy is already on its way to me from Germany.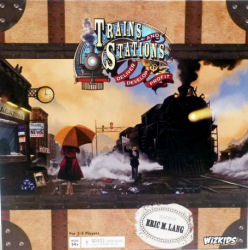 Comments »
The URI to TrackBack this entry is: http://www.spiel.co.uk/wordpress/wp-trackback.php?p=589
No comments yet.
RSS feed for comments on this post.
Leave a comment
Line and paragraph breaks automatic, e-mail address never displayed, HTML allowed: <a href="" title=""> <abbr title=""> <acronym title=""> <b> <blockquote cite=""> <code> <em> <i> <strike> <strong>